Dear Friend,
Check out AshLee's guest post today on
Whatever Dee Dee Wants
, Terrific Tuesday! Dianna invites guest bloggers each Tuesday to share fun activities to do with your kids, Two Penny Blue Mom's post is today!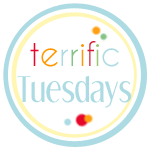 Have a Terrific Tuesday and make sure to check out my favorite TT project so far-
the PVC waterway!